As an Amazon Associate I earn from qualifying purchases.
The standard kitchen outlet height is 42 inches from the finished floor to the center of the outlet. Proper installation of kitchen outlets is crucial for a safe and functional kitchen.
Kitchen outlets are one of the most important electrical devices in a home. They provide power to small and large kitchen appliances such as blenders, toasters, coffee makers, and microwaves. But what is the proper height for them? The standard height for a kitchen outlet is 42 inches, measured from the finished floor to the center of the outlet.
However, there are a few things to consider before installation such as the height of the countertop, the type of kitchen appliances you'll be using, and accessibility. In this article, we will delve into the world of kitchen outlets and explore their proper installation methods.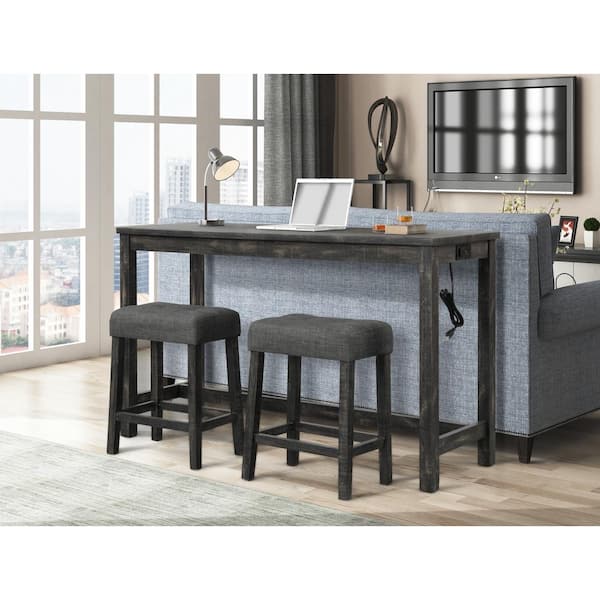 Credit: www.homedepot.com
Guidelines To Determine The Perfect Height
Understanding The Kitchen Workspace
The kitchen is one of the busiest spaces in the home, and the outlets' height must be placed at an optimal height to make the area more convenient and accessible. Understanding the kitchen workspace and the various heights needed for different kitchen appliances is crucial in determining the best height to place the outlets.
Basic Considerations
When deciding on the perfect height for kitchen outlets, there are a few basic considerations to take into account. These include the height of the countertop, the height of the appliances, and the height of the users. It is essential to balance these three factors to come up with the ideal outlet height that is easy to access and aesthetically pleasing.
Electrical Code Specifications
Electrical codes require outlets in kitchens to be a certain height above the countertop to prevent shock hazards. These specifications are put in place to protect the users and must not be ignored when placing the outlets. The national electric code specifies that outlets in kitchen counters must be gfci-protected and placed no more than 20 inches above the countertop.
Considerations For Differently-Abled Individuals
One should also take into account individuals with physical disabilities when deciding on the optimal outlet height. Installing the outlets higher on the wall might make the area inaccessible for people who use wheelchairs or those who have mobility impairment.
Therefore, placing the outlets at a lower height can create more significant ease of access for people with varying physical needs.
Proper Placement Of Outlets
Proper placement is a critical consideration for kitchen outlets' height, ensuring they are close to the necessary appliances and far enough away to avoid any potential water damage. Outlets must be placed near dishwashers, under-cabinet lighting, and refrigerators for convenient use.
Besides, they must be installed higher than the kitchen sink level to prevent water damage.
Calculation Of Outlet Height
To calculate the ideal height of outlets in your kitchen, begin by measuring the distance from the floor up to your kitchen countertops. Electrical code dictates that outlets must be 20 inches above the countertop, so add this measurement to your countertop's height.
If you have the proper range measurements, add ten inches to the height, and you'll get the ideal outlet height for a stove or range.
Factors To Consider When Installing New Outlets
Finding The Appropriate Location For The New Outlet
When it comes to installing new outlets in your kitchen, finding the perfect location is key. Consider the following points before selecting the outlet location:
Determine the usage: Determine the purpose and the appliances that need power.
Measure height: Take measurements of the height from the work surface and nearby cabinets. This helps to determine the position of the outlet.
Number of outlets: Determine the number of outlets needed as per your requirement.
Safety: Keep in mind that the new outlet must be placed away from water sources, hot surfaces, and combustible materials.
Preparation For Installation
Proper preparation is necessary before starting the installation process. Follow these steps to ensure a glitch-free installation:
Gather necessary tools: Gather all necessary tools such as wire stripper, voltage tester, screwdriver, and electrical tape to help with installation.
Turn off the power: Turn off the power to the kitchen from the main service panel before installation.
Create an outlet template: Use a pencil to trace the outline of the outlet on the wall to create a template.
Cut the hole: Use a drywall saw to cut out the hole for the outlet.
Installation Process
The installation process for kitchen outlets requires basic electrical skills and knowledge. The following steps must be followed to install a new outlet:
Remove the wall plate: Use a screwdriver to remove the wall plate from the template.
Connect the wires: Connect the neutral, hot, and ground wires using the wire connectors and follow the colour code i.e. White for neutral, black for hot, and green for ground.
Attach the outlet: Secure the outlet by attaching it to the outlet box and tighten the screws.
Install the wall plate: Install the wall plate over the outlet box and secure it using screws.
Ensuring Safety Guidelines And Protocols Are Followed
It is essential to follow proper safety guidelines and protocols to ensure a smooth and safe installation process. Follow the tips mentioned below:
Turn off the power: Switch off the main power source before starting the installation process.
Test the voltage: Use a tester to ensure that the power supply is completely off before installing the outlet.
Choose the correct wiring: Choose the appropriate wiring based on your electrical circuit, and don't overload the circuit.
Hire a professional: Hire a licensed electrician for complex installations or if you are not confident in your electrical abilities.
Following specific guidelines and protocols is necessary to ensure a successful new kitchen outlet installation. By adhering to these guidelines, the installation process becomes more manageable and safer for everyone involved.
Upgrading Existing Outlets
Understanding The Current Outlet Setup In The Kitchen
Before upgrading kitchen outlets, it is essential to examine the existing layout to ensure that the upgrade is practical. Understanding the current outlet setup in the kitchen involves the following:
Locating the position of the kitchen outlets.
Identifying the type and rating of the outlets to determine if they meet your kitchen's electrical needs.
Verify if the existing outlets are gfci (ground fault circuit interrupter) protected, as required by electrical codes.
Comparing Existing Outlets With New Requirements
It is vital to compare the current outlets with the new requirements to ensure that the upgraded outlets meet electrical codes while also meeting the user's needs. Here are the key points:
With the increase in the use of kitchen gadgets and appliances, the demand for electrical power has also increased, which requires upgrading from the traditional 15-ampere outlets to 20-ampere outlets to accommodate the higher electrical load.
Electrical codes require outlets near sinks and in contact with countertops to be gfci protected, so it is necessary to upgrade to gfci outlets in areas within six feet of a water source.
Kitchen outlets should be installed at a height of 42" above the floor to comply with electrical codes.
Adding Additional Outlets
Adding additional outlets to the kitchen requires several steps to ensure that the upgrades are practical and safe. Here are the key points to consider:
Determine the location and number of outlets needed based on your kitchen routines and electrical requirements.
Check the availability of electrical circuits to avoid overloading the existing ones. Adding more outlets to an overloaded circuit can lead to tripping and other electrical hazards.
Hire a licensed electrician to install the additional outlets to ensure that they comply with electrical codes.
Taking Care Of Existing Wiring
When upgrading kitchen outlets, it is essential to take care of the existing wiring and ensure that it is safe and practical. Here are some key points to consider:
Check the existing wiring to ensure that it is in good condition and can support the new outlet requirements.
It is not advisable to cut corners or reuse old wiring since it can cause electrical hazards, such as short circuits and fires.
Hire a licensed electrician to inspect the existing wiring and upgrade it to meet electrical codes.
Upgrading kitchen outlets is essential for ensuring that your kitchen offers the required electrical power to support your appliances and cooking routines. However, it is necessary to adhere to electrical codes and hire a licensed electrician to ensure that the new upgraded outlets are practical and safe.
Maintenance And Troubleshooting
Kitchen Outlet Height: Maintenance And Troubleshooting
Electrical outlets in the kitchen are a necessity for any modern home. They provide power to appliances and devices that make cooking and entertaining more accessible and efficient. Maintaining your kitchen outlets is essential to ensure that they are functioning correctly and safely.
In this section, we'll discuss preventive measures and troubleshooting tips, including how to identify electrical issues and who to call for technical assistance.
Identification Of Electrical Issues
Sometimes, kitchen outlets malfunction due to several electrical issues. Here are some signs of an electrical issue to watch out for:
Flickering lights or outlets
Burning smells or sparks from outlets
Warm outlets or dimming lights when using appliances
Breakers tripping often
A humming or buzzing noise from appliances or outlets
If you notice any of these warning signs, you should immediately shut off the power to that outlet and contact an experienced electrician for help.
Preventive Maintenance Tips
Taking good care of your kitchen outlets can prevent problems from happening. Below are some preventive measures that you can take:
Use outlet covers to prevent water or dust from entering the socket
Avoid overloading outlets with too many devices
Clean outlets regularly by using a soft brush or a cotton swab to remove debris
Check plugs frequently to see if the prongs are bent or worn, have them replaced if necessary
Inspect cords and plugs for damage regularly
Electricity can be dangerous, so it's essential to practice safety and caution when inspecting or maintaining outlets.
Electrical Troubleshooting Tips
Troubleshooting your kitchen outlets can save you time and money. Here are some steps to follow:
Check the breaker box to see if a circuit tripped.
If that did not work, check for a blown fuse.
Check the gfci outlet, especially if one or more outlets are not working.
If there are still issues after performing these steps, refer to the manufacturer's user manual, or call a reputable electrician.
Who To Call For Technical Assistance
Some electrical work requires the expertise of an experienced electrician. Here are some issues that call for technical assistance:
Rewiring a home or office building
Installation of new outlets or switches
Installation of new wiring systems
Repair or upgrading a circuit panel
It's important to remember that safety comes first, and calling a qualified electrician is crucial when dealing with electrical issues.
Maintaining your kitchen outlets is essential for safety and efficiency. By following the tips outlined in this section, you can identify electrical issues, troubleshoot problems, and know when to call for professional assistance. Taking proactive measures when it comes to your electrical systems is the key to a safe and fully functioning kitchen.
Frequently Asked Questions Of Kitchen Outlet Height
What Is The Standard Height For Kitchen Outlets?
The standard height for kitchen outlets is 42 inches above the finished floor.
Can I Install Kitchen Outlets Higher Than 42 Inches?
Yes, you can install outlets higher than 42 inches, but it's not recommended for safety reasons.
How Many Outlets Should Be In A Kitchen?
There should be at least one outlet for every six feet of counter space in a kitchen.
Can I Install Outlets On My Kitchen Island?
Yes, you can install outlets on your kitchen island. However, make sure they meet electrical code requirements.
How Far Apart Should My Kitchen Outlets Be?
Kitchen outlets should be no more than 48 inches apart so they can be easily accessed from anywhere on the counter.
Can I Install My Own Kitchen Outlets?
It's possible to install your own kitchen outlets, but hiring a licensed electrician is recommended for safety.
Do I Need To Use Gfci Outlets In My Kitchen?
Yes, using gfci (ground fault circuit interrupter) outlets in your kitchen is required by electrical code for safety reasons.
Can I Install Usb Outlets In My Kitchen?
Yes, you can install usb outlets in your kitchen for convenience, but make sure they meet electrical code requirements.
Conclusion
Based on the discussions in this blog post, it is important to consider the height and placement of kitchen outlets during kitchen remodeling or renovation. Proper outlet placement ensures that electrical appliances are easily accessible and used without concerns for safety.
The national kitchen and bathroom association's (nkba) standards provide a good point of reference, but it's important to ensure that the outlets' placement takes into account your family's height, appliances in use, and the overall theme of your kitchen. As jim tolpin suggests, it's best to install outlets at a height where they can be conveniently accessed, but still keep them low enough to maintain a seamless look in the kitchen.
A licensed electrician should be consulted for any electrical work to ensure that the outlets are properly installed and comply with local building codes. With proper placement and installation, you can enjoy your kitchen without any power-related hassles.
Amazon and the Amazon logo are trademarks of Amazon.com, Inc, or its affiliates.